Cala Luna Restaurant 
Detectable Fine Dining In A Romantic Setting
At Cala Luna Boutique Hotel & Villas, our restaurants' focus on elegant and delicious creations delights our guests and our Tamarindo neighbors alike. The kitchen team conjures dishes that combine international cuisine with Costa Rican flavors to deliver one-of-a-kind tastes amid an intimate setting.
As you sit in the partially outdoor dining area, you are surrounded by flickering lanterns that reflect in the glass-like pool. You gaze up to the shimmering stars surrounded by palms as you sip chilled wine before your dinner arrives. Soon, you relish in gourmet fare that is often organic, local and sustainable, but certainly doesn't skimp on flavor, originality or refinement. Our dinners are complemented by an ample wine list that is organic and bio-dynamic, and we're proud to be the first hotel to adopt this exclusive wine selection.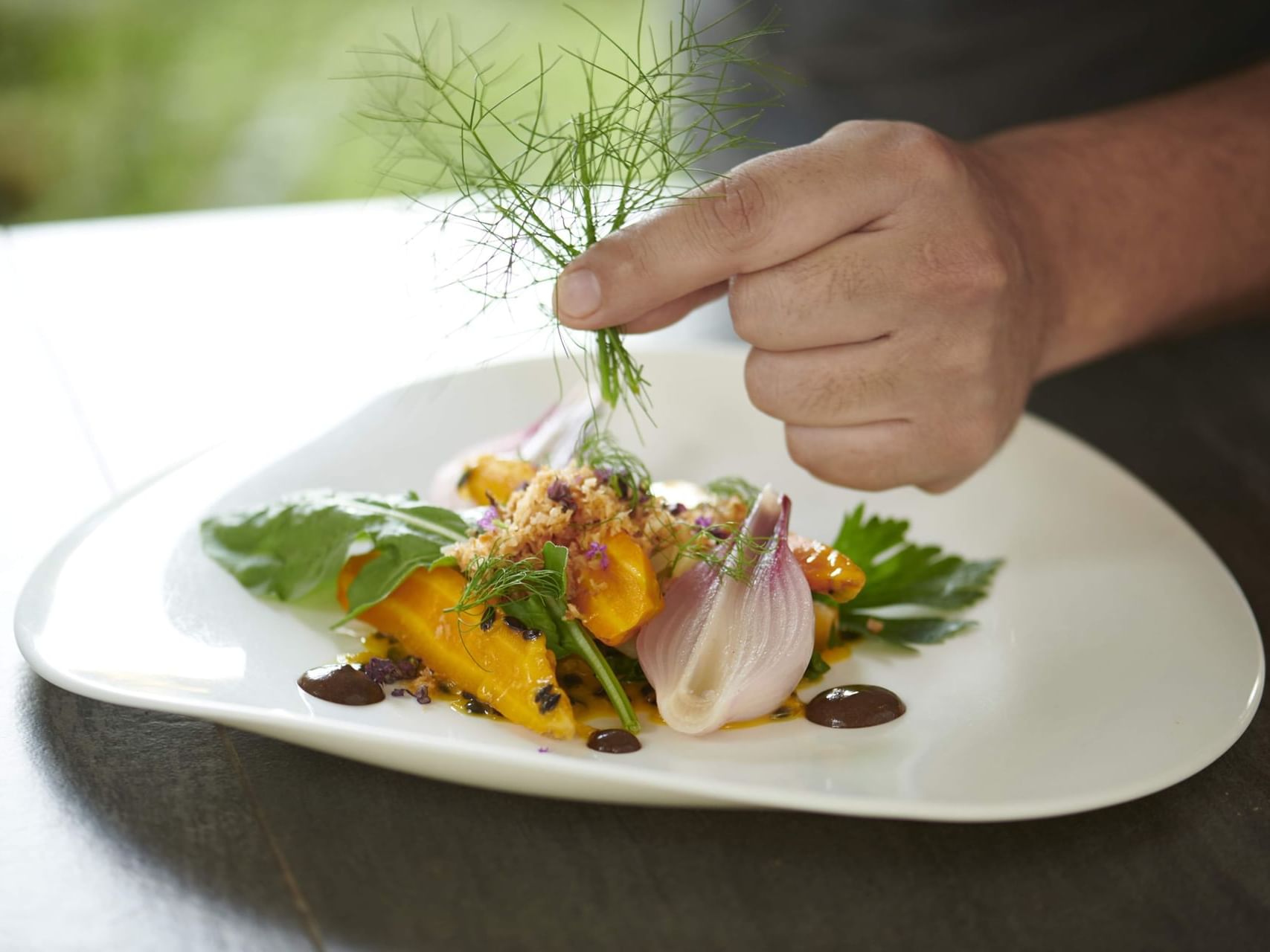 At Calamoresca, we nourish your senses daily through delicious home-grown ingredients organically grown at our homestead La Senda and gastronomic farm to table dinners.
Read more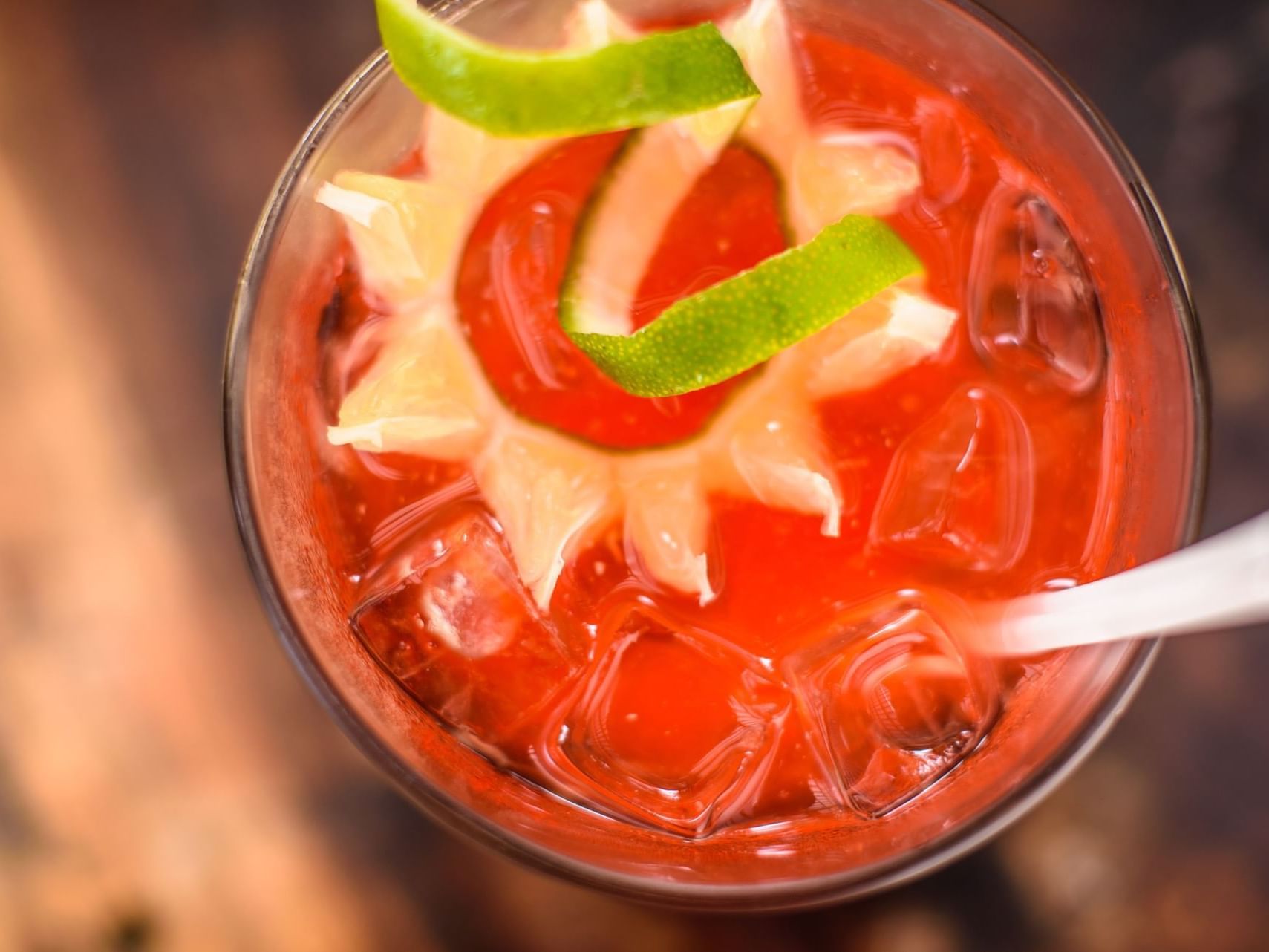 Our lounge is one of the most happening places at our resort, specializing in fruit cocktails and long list of beers, wine, and cocktails
Read more
MENU

We continue our tradition of personalized and friendly service at Cala Luna restaurant. Our wait staff are always ready to assist you with any request and our chef will always try his best to accommodate any dietary restrictions and special requests you may have.
APPETIZERS
Nicoyan bay shrimp poppers, mango, gooseberry sauce $ 13
Crispy calamari rings, homemade tartar mayonnaise (*) $ 12
Patacones, refried beans, guacamole, chimichurri $ 9
Caribbean ceviche, catch of the day artisanal fished in the Nicoya Bay, octopus, coconut milk,
ginger, pineapple pickle $12
LA SENDA
Smoked eggplant caviar, passion fruit, celery, cilantro, crunchy corn tostada $ 9
Duck rillette, slowly cooked duck from our farm, pickled vegetables, adobo of chilies,
crunchy corn tostada $ 13
Spring rolls, green papaya, cucumber, celery, mango, aromatic leaves from our garden,
homemade peanut dressing $11
The vegetables that we cannot grow organically at La Senda, a sister project of Cala Luna,
we buy from like-minded farmers in the higher elevated central valley that cherish
the same principles as we do when it comes to caring for our planet Earth.
HANDS- ON
(Choose small salad or fries)
Grilled chicken, fresh local Tico cheese, tomatoes, avocado, wild cilantro aioli $15
Quesadilla, ground flour tortilla, local cheese, guacamole, tomato, pico de gallo $12
Add chicken $ 15
Fish taco, marinated in turmeric and garlic, red cabbage, red onion, mild tamarind salsa $15
Substitute shrimp for fish $17
Green (Add roasted chicken $3, shrimp $6, fries $5)
Caprese, tarragon and roasted peanut pesto, balsamic reduction, buffalo
mozzarella, green leaves $12
Tiquisimo, cassava al mojo, pickled red onions, tomato, cucumber, wild cilantro aioli, spiced peanuts, radish, fresh leaves $12
Grilled from the farm, roasted eggplant, hardboiled egg, tzatziki dressing, Fattoush salad (cucumber, tomato, onion) $12
Plant burger, homemade plant-based burger, red onion, pineapple chutney, homemade pickles, sesame house baked bun $ 17
LUCID FOOD
Pasta, tarragon and roasted peanut pesto, grana padana, fresh cherry tomato $14
Pasta, fresh tomatoes, basil, grana padana $14
Raviolis, zucchini and roasted peanuts pesto, homemade ricotta cheese, mint, lemon zest $18
Lentil dahl, coconut milk, sautéed chaya leaves, coconut-scented brown rice $15

OCEAN
Linguini Frutti di mare, shrimp, octopus, clams, mussels, parsley, crab-tomato sauce $18
Grilled octopus from the Pacific, roasted bell pepper confit, sauteed sweet potato, onion $25
Nicoyan bay shrimp, lightly braised greens, yellow curry sauce, polenta fingers $25
Catch of the day, cashew nut crust, Tamarind sauce, sautéed vegetables, sweet potato puree $24
Catch of the day, mild green papaya curry, coconut milk, fresh turmeric, tamarind $24

Another part of our effort to provide you with only the very best is that
we avoid using processed ingredients by preparing everything from scratch.
This might mean more preparation time, but it also guarantees that we are familiar
with the ingredients we use and have better control over the amount of wasteful packaging.

EARTH
Chicken skewers, marinated in soya sauce and ginger, organic peanuts from La Senda,
mixed fresh organic greens, fries $19
Moroccan style chicken, cashew nuts, homemade preserved lemons, Kalamata olives,
polenta fingers $19
Cala Luna burger, grass fed beef from Bagaces, local cheese, bacon, red onion,
pineapple chutney, homemade pickles, sesame house baked bun, fries $21
Bagaces grass fed brisket with artisanal beer, whole grain mustard sauce, string beans,
cashews, sweet potato puree $19
Grilled grass-fed rib-eye from Bagaces, mixture of roasted bell peppers and red onion,
rosemary, arugula pesto, homemade garlic confit, grana padana,
oven baked sweet potato cubes $31

DESSERTS AND DRINKS
Belgian chocolate mousse, our Belgian grandfather's recipe with Belgian Callebaut chocolate,
bee honey caramelized peanuts $9
Combine after drink - Carajillo cocktail, 43 liquor, coffee shot $6
Coupe tropical, artisanal vanilla ice cream, sorbet, caramelized pineapple
scented with cardamom $9
Combine after drink - Costa Rican White Russian, Café Rica liquor, almond milk $6
Artesanal gunabana sorbet, rosa de Jamaica housemade syrup $9
Combine after drink - Tropical kir, cava, hibiscus tea $6
Famous Belgian Dame Blanche, artisanal vanilla, and chocolate ice cream, warm homemade Belgian Callebaut chocolate sauce $9
Combine after drink – Baileys and Costa Rican coffee liquor $6
All after drinks are available as cocktails $10
23% taxes included
Sustainable Dining with Locally Sourced Ingredients
Eating responsibly and healthily leads to sharper mental function and improved physical health. We believe that food and wine are intrinsic elements of life, which is why they constantly review our menu and food origins to adhere to stringent criteria for your dining experience.
1. We strive to only use ingredients produced with a low carbon footprint. Thus, we frequently adapt our menus and use, whenever possible, ingredients grown or produced in Costa Rica.

2. Most of the ingredients we use daily are grown in Cala Luna's own organic vegetable and herb farm.
3. Whatever Cala Luna cannot grow itself, we buy from locals, such as vegetables, fruits, poultry and dairy products produced locally at their homes right here in Guanacaste.
4. At all times, we avoid using processed ingredients.
5. By not purchasing imported items, we are more familiar with the ingredients that are used and retain better control over the amount of wasteful packaging and carbon emissions.